FÆRGEOVERFART
Da vi ønsker alle en behagelig og ikke mindst nem tur til og fra Lilleø, har vi valgt at gentage succesen fra sidste år – dog med en lille krølle på halen.
Du har mulighed for at forudbestille din plads på færgen fra Bandholm til Askø, hvilket vi anbefaler dig at gøre.
Turen tilbage til fastlandet er inkluderet i færgebilletten, dog er pladsreservation ikke mulig på vejen hjem. Du medtages fra Askø efter "først til mølle" princippet, og festivalens personale vil guide dig hele vejen igennem, så din tur bliver så gnidningsfri som muligt.
NB! Du skal kun købe en billet pr. person
– den gælder både til og fra Askø med færgen.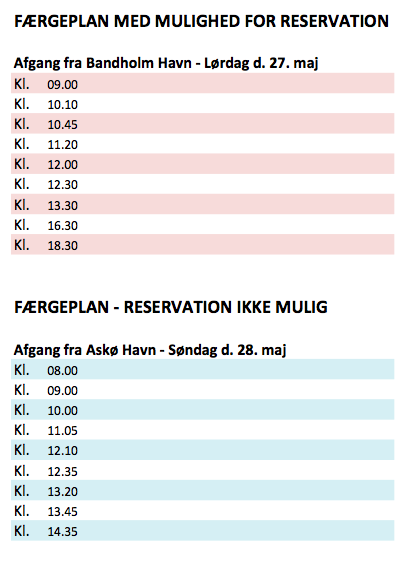 Køb færgebilletter HER
A green festival within nature

The ambition is to create a festival where peoples engagement goes hand in hand with the environment of the Island. Apple Flower wish to engage all participants at the festival, to take responsibility during their stay at Lille Ø. You can help us by:


Reduce use of plastic

To reduce the amount of plastic waste at the Island, all plastic cups are to be re-used during Apple Flower Festival. (there is s fee each time a participant needs a new glass).
Sort your waste

The festival has a recycling system, which give all participants the opportunity to sort their waste.


Leave, as nature made it

All participants are to leave the island and nature as they found it so nature and island can restore.

GENERAL INFO
Shuttle Bus Service
We strongly recommend that you DO NOT bring your car to Askø, but rather leave it at the parking area at the Port of Bandholm. There will be a trailer available on the docks where you can leave your luggage and we will ensure your luggage is transported to the festival area where you can pick it up once you check in at the festival.
The shuttle bus drive takes about 5 minutes.
The Festival area
Vigmosegård, Lilleøvej on Lilleø.
Tent/Camping
When purchasing your festival ticket, you can also rent a tent. The tent will be ready for you upon arrival, all you have to do is move in with you mattress and sleepingbag!
You can choose between two campsites; 'Apple Camp' or 'Quiet Camp'. 'Apple Camp' is situated close to the festival area and within hearing distance of the stages. 'Quiet Camp' is located across the street, offering a little less noise.
You are of course more than welcome to bring your own tent and camp in the designated areas of the two campsites.